Christmas Flyer 2019
December 16, 2019
We at Curtiss-Wright would like to wish our customers and partners a Merry Christmas & Happy New Year and at the same time thank you for a good collaboration during the past year.
2019 has meant major changes in our customer segments, including electrification, digitization and energy optimization as a common denominator. Nevertheless, we have continued to invest and develop our production units and have succeeded in securing a number of new strategic long-term customer projects. We have welcomed several new employees during the year and also introduced 24-7 production for our operations in Arboga. We look forward to an exciting 2020 together with our partners.
Read full article in Swedish Below.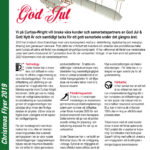 << Back to Archived News Archives